Kristi's Pool Service has been in Business since 1999. Owned by David Mills & Christina Creamer.
David started in the pool business at the age of 17 working for a local pool company. There he learned all aspects of the pool industry and continued as an employee for 6 1/2 years. After that time he got away from the pool business for about 3 years to help his father grow a Pest control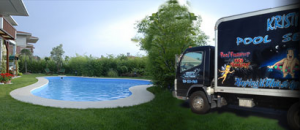 company. After the Pest control company was in full swing, he and Christina opened Kristi's Pool Service. Since its inception in 1999, the Business has grown into a full time job requiring the assistance of 5 employees and 6 service trucks including the addition of a box truck in 2007 used solely for remodeling and repair. We take great pride in the service we provide for all of our customers. We have an in-house crew that help in every aspect of the pool remodel and Vinyl liner replacements. Myself and Kristi materially participate in all aspects of the remodel process from start to finish ensuring that the job is done with quality and Integrity. We don't just show up for the down and final pmt.
The phone number printed in the phone book or on the Internet will ring directly to my cell phone, so unless were on the other line you will reach us and not a recording
Don't let the name fool you. Kristi's Pool Service is a complete 1 stop shop for all your pool needs and desires.
We specialize in Pool Remodeling and Vinyl Liner replacements. We have Weekly maintenance programs that will suit your needs. Whether it be a simple green pool clean up or a major remodel of your existing pool, equipment or Deck, we can perform any task no matter how big or small.
We carry and install all the name brands of equipment that are available for your pool including all of the latest gadgets such as Salt Systems ( chlorine Generators ), LED lighting, DE filters and variable speed pumps designed for saving energy and fine tuning of your pools Hydraulic system.
We serve all of Polk County and look forward helping you with all of your pool needs and answering all of your pool questions.
Thank You for visiting us here at Kristi's Pool Service.